Olympos by Yacht
A private excursion on the Mountain of Gods(Olympos)

OLYMPOS BY YACHT
If you are looking for a very unique and unusual activity from the Antalya, this is for you ! We invite you to a PRIVATE boat charter from Antalya Çelebi Marina marina to Olympos, on the other side of the strait of Antalya. You will experience the excitement of crossing the Straits from one "Mountain of Zeus" (the rock of Olympos) on the European mainland. We will look out for dolphins and whales and cruise to the Olympos.
Once moored in Ceuta, you will discover a colonial port which has the atlantic on one side and the mediterranean on the other, with a canal running through the city linking the two. Ceuta is a mix of Christian and Islamic heritage, but also features some Indian and Jewish souvenirs. The market is a clean (and hassle-free) version of those you might find in Tangier or Marrakesh. So Ceuta definitely offers everything you could expect from a special escape on the other side of the Strait !
This private boat charter to Olympos will take place on board of a yacht (15m long) offering great comfort. And obviously a captain will accompany you at no extra cost.
Upgrade available : 2 day boat escape to Olympos, Gökkaya, Kaş
Who's it for?:
This private cruise to Olympos is a very unusual holiday and leisure activity, ideal for smaller groups and families, special occasions, gifts, etc
09.30 Meet in Antalya Çelebi Marina Marina
09.45 Leave for an exciting charter and cruise onto Olympos ancient city
~12.30 Arrive Olympos, mooring, etc
Free time to enjoy lunch (not included), visit the city, the market, etc
16.00 leave Olympos
~19.00 back at Antalya port
Available Yachts For This Program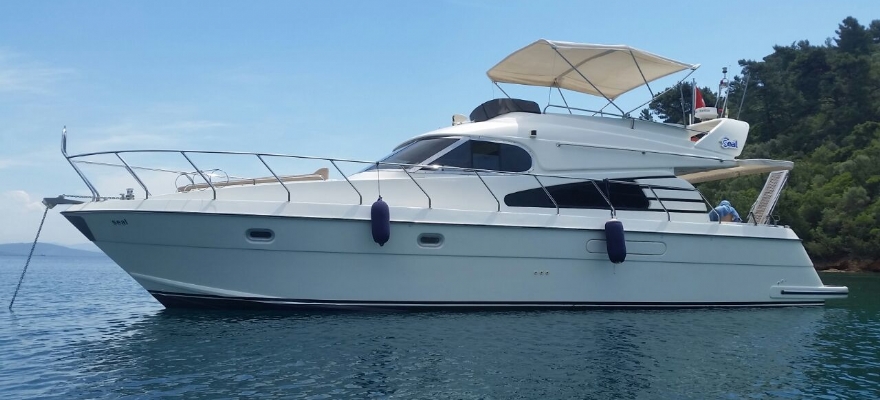 M/Y SEAL 52 FT
150 EURO PER HOUR
Additional Information
Number of participants:
Up to 8 (+captain at no extra cost)
Weather:
Should the weather not allow the activity to take place (strait crossing), a new date will be organized between parties
Availability:
All year round, subject to availability.
Languages Spoken:
English,Russian,Turkish
Locations
Etiketler : Boat Cruise to Olympos , Antalya Boat Tours , Antalya Yacht Tours , Antalya Day Cruises , Half Day Cruises in Antalya , Private yacht charter antalya , private boat cruise antalya , antalya , belek , kemer , side