Sunset Tour
We welcoming you Antalya Çelebi Marina. Your own private chef, waitress and captain at your service during trip.
Itinerary
Antalya Çelebi Marina - Sıçan Island - Çaltıcak - Antalya Çelebi Marina
Tour Length: 18.00-23.00 (5 Hours)
Tour Program:
18:30 Yacht is ready for cruise in Çelebi Marina.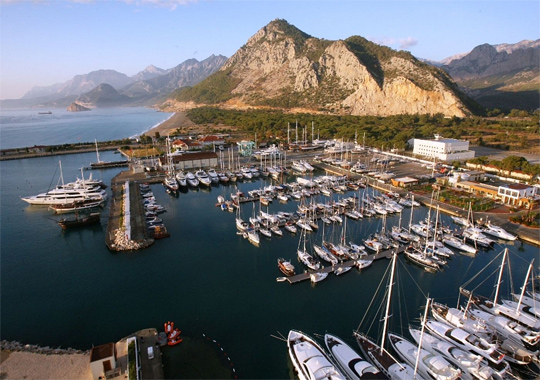 19:00 Board the yacht for your cruise to Sıcan Island Welcome drink is served.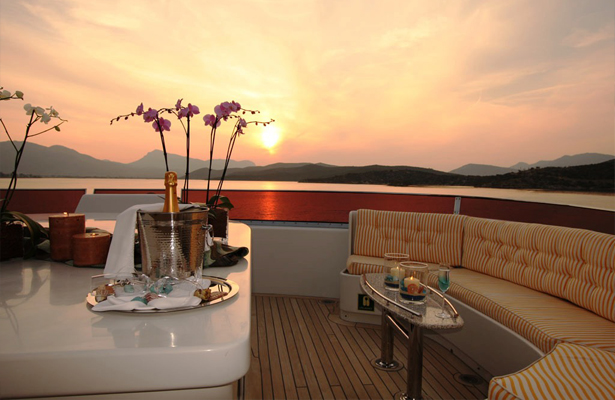 21:00 A delicious dinner is served on board in front of the this sceneric view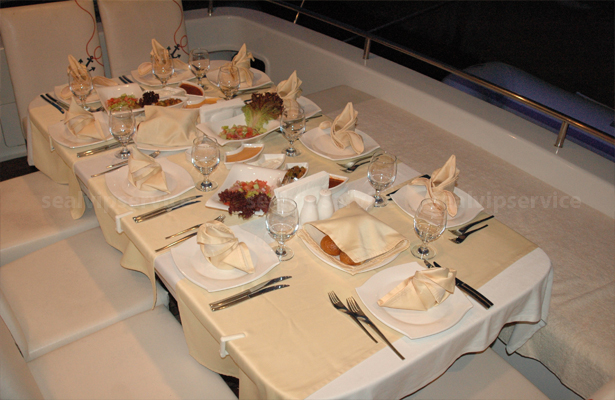 23:30: Returning back to Marina and transferring to your villa or hotel
Available Yachts: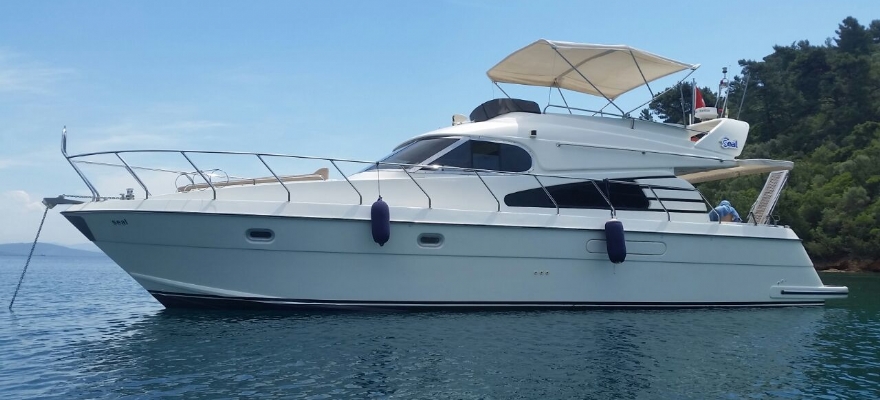 M/Y SEAL

Length = 52 ft
Cabins = 2
Dest. = Antalya ,Belek, Kemer, Kundu, Lara
Service
Dinner Menu: Fresh Bream Fish or Perch Fish, Meatballs,Chicken Grill, Shrimps , Calamare Grill , Mediterrenean Salad, Avocado Salad , Delicious Snacks (Russian Salad, Italian Salad, Haydari, Aubergine Salad,Ezme),Seasonal fresh fruits, Dessert
50 euro per person
Pure Vegeterian Menu(optional): Olive Oiled Plate ( artichokes - brocoli purslane - stuffed peppers) Green Salad, Vegetable Pie, Fresh Fruit Plate Note: There is no: eggs and meat products in this menu ingredients
30 euro per person.
Drink Menu:
Soft Drinks Served On Board; Cola,Fanta,Sprite,Ice Tea,Water,Mineral Water,Tea,Coffee (free)
Alcoholed Drinks Served On Board: Efes Beer, Vodka, Red Wine, White Wine , Yeni Rakı, J&B (extra)
Vip Menu (optional) : Swollen Grida or Swollen Sword Fish,Fish cooked on salt, Sea Snacks:Somon,Lacerda,Çiroz,Perch Marin,Shrimps,Aubergine, Stuffed vine leaves,Cheese Plate,Vegetable Plate,Octopus Salad,Jumbo Shrimp and Calamare Grilled,Desserts, Ice Cream, Baklava, Seasonal Fresh Fruits
150 euro per person
INCLUDED TO PRICE:Yacht, Captain and Crew, Fuel in tour itinerary,
Looking for something bespoke?
Etiketler : lux yacht tours antalya , sunset cruise , Antalya , Antalya Day Cruises , Antalya Boat rental , Antalya boat hire , Antalya yacht rental , luxury yacht charter antalya